It's here.
It's time.
Thursday is the big day, the one we've been looking forward to for months. The culmination of all the hard work, all the hours in the gym, all the training, all the film sessions and tactical analysis. It is the day that truly begins the quest for the holiest of grails in all of sports: the NCAA basketball title.
Er–is that not what you were talking about? What else is happening…? Oh right, Barcelona is heading into a cauldron of fire with participation in the Europa League hanging in the balance. A fairly insipid 0-0 draw at home means that there's everything to play for, as they say, in the second leg at the Nef Stadium. And so we go to Turkey, to Istanbul, to a place where time is measured almost geologically, at least in the cultural sense. Spencer Hall noted in his 2017 ode to Istanbul and the Intercontinental Derby between Galatasaray and Fenerbahçe, "The city has so many spare parts from so many civilizations that even its restoration efforts use the scraps." The historical sweep of the city is matched by the passion of its inhabitants, whose vigorous support was, until they were banned, measured by trying to reproduce volcanoes using flares. Perhaps they weren't banned, they simply used up all the flares on either continent that the city straddles.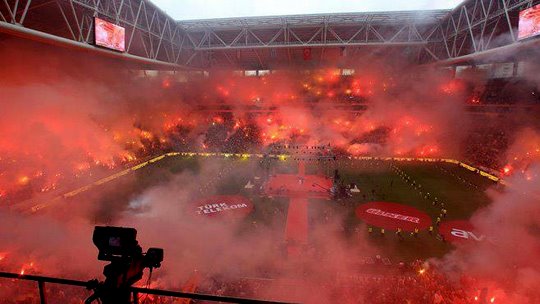 There have been paeans to the chaotic and insane nature of Turkish fans for as long as I've been watching the game, but the sheer noise of it all is where I would go half mad. This is the opposite extreme from a hush-hush tennis match: the pilot of an A380 flying directly overhead might ask them to keep it down. The tifo are resplendent in their complexity and grandeur, the drums, the yells, the chants. That the ultra group most heavily linked to the club is named after the Turkish word for lion (Aslan), doesn't make me think of anything other than Roman Colosseums and braying crowds here to watch gladiators.
I don't know Istanbul. I don't know Galatasaray. I do know a wounded animal backed into a corner when I see one and Galatasaray is wounded, but definitely not out of. Not in any way. This weekend, they beat rivals Besiktas, who are also struggling a bit in 8th, continuing their improvement under Domènec Torrent, but still decidedly wounded.
Yes, they got the better of Besiktas and yes they're going to be playing in front of their fans in what will no doubt be considered an important match after turning in a defensive performance Diego Simeone would probably marry if he could, but this will not be easy. Barça also won at the weekend, albeit against a lesser opponent. But Osasuna barely got a sniff of anything resembling a goal and that's something worth noting because that same Osasuna drew 2-2 with Barça in December (also under Xavi). Confidence is everything in this little game of ours. Or, I mean, I guess goals count too.
Barça should score some goals. Not doing so in the first leg was a mistake, if you ask me, which you kind of are by reading this. You wanted to know my thoughts on the Europa League and you've got them.
Except, okay, I'll talk about the elephant in the room here: does anyone care about this match? El Clásico is on Sunday! This Sunday. The next Sunday in the calendar. El Clásico! The Big One! The One That Matters! Exclamation Points!
More Exclamation Points!
It's not that this particular encounter with the hated rivals from the capital is all that important to the season (we will not win the title and they will win it regardless of the outcome of this weekend's match) but every clasico matters more than anything else. Oh and that it comes during March Madness? Listen, I'm going to need some detox by the end of this weekend and not from drugs or alcohol but from hype. Kind of like these Galatasaray fans clogging up Barça's Twitter mentions with whatever that stuff is. I'm not saying they shouldn't do it, I'm saying I don't understand it. And that's okay because I'm old now.
Speaking of old, how about Juventus losing to Villarreal, eh? I watched some highlights and the commentator said that the Old Lady was welcoming the new kid on the block to the Champions League knockouts. This is the sort of disrespect that I think Galatasaray fans can understand; go post Harry Potter fanfic in their mentions, you guys! Sure, Villarreal are in 7th in La Liga, but it's not like they weren't top 4 last year, but also how about 2006 when they went to the semifinal? They're not new!
The demise of Spanish football is, perhaps, a bit overblown, despite Barça disappearance from the top tier European competition. Atleti, not exactly lighting it up in Spain, is through to quarterfinals along with Villarreal and whatever that other team from Spain is called. I can't remember. Anyway, 3 English teams are through as well, along with Benfica and Bayern Munich. How many of those teams would fancy playing Barça right now? Let's go. Strap on some shin pads and let's do this.
The answer is: Galatasaray seems up for it. They weren't good in the first leg, but they were good enough because Barça was downright insipid. They weren't able to break down the Turkish team, although the Catalans were the better side overall. In Istanbul, they need to be like this boat to Galatasaray's riverside house: an unstoppable force the size of God just obliterating whatever those walls were made out of. Only, this is Barça and it could very well founder in the shallows, especially if its captain is eyeing the weekend like I am.
What I mean by any of this, by all of this, is do we care about the Europa League? It's the little brother of the Tuesday and Wednesday grown up tournament, but it is also a financial lifeline, with just enough prize money dangling in front of the team to be worth going after, especially if the league is already lost (it is) and we're in a serious economic hole (we are) that requires heavily lifting or miracles to fix.
We'll bank on the miracle, thank you very much. Or should I say, thank Spotify very much? No, I won't say that because I shouldn't be thanking them for finally destroying the last vestiges of the soulful Barcelona and giving the stadium a dumb moniker. It's not cool, it's not interesting, it's just dumb. Admittedly, there were much, much worse options on the table, but why was that table so full of options and not one of them was "don't sign any of these sponsors and let's be a responsible adult in a room full of toddlers"? Because we must can has Erling Haaland. Or someone. Anyone. If we don't sign megastars, do we even exist?
Well, look at Villarreal (you didn't think I brought them up just for the Old Lady thing, did you? Oh, you did.), they're not splashing out 55 million in January on a forward and sure, they have Unai Emery to blame when they inevitably draw Manchester City in the next round and get pummeled like that house on the banks of the Bosporus, but but they're also still in the Champions League and Barça are not. They also don't have a sugar daddy oligarch whose cash has suddenly run dry and they're coasting along on the fumes in the tank before it all comes crashing down.
It's the money that we're aiming for against Galatasaray and it's the money that will ruin us. No, it's the money that has ruined us. We had immense success by picking and choosing our investments and then that success got in our noses and we just had to have more, more, more. And that meant splurging for the latest bobble on the market, that a shirt sponsor to fund more bobbles, and that in turn meant taking the club into the corporate cycle of debt from loans designed to shore up accounts but then those reservoirs of cash were opened and deposited in the waiting arms of clubs, agents, players, and lord knows who else because more, more, more was the hue and cry of not just the fans, but the spectacle-loving parts of the media whose daily readership dwindled along with the trophies so there had to be another trophy and another angle and another op-ed decrying the fall or rise or false rise or true fall or crisis, crisis, crisis and then–
Well now we're here. Now we're in Istanbul and El Clásico is right there, peeking its head around the corner just up the road and we can see it and we can smell it and it smells like…what does it smell like? That's not fear. No, fear is what has wafted out of the presidential box the last few years, perhaps longer, when flop sweat starts to pour after each financial audit. It turns out you can't really buy your way out of poverty if you don't actually buy anything but cotton candy and beer. No, it smells like…possibility. The faintest hint of hope that Xavi has righted the ship before that collision with the house and we're steering toward open waters, toward something that could really be a cohesive squad rather than a muddle of parts. There's a difference, of course, between buying a mid-sized sedan that tops out at 95 and buying a bunch of McLaren parts and wondering why you're not going 160 on an open road yet.
We won't put together that dream car unless we take the time to read the goddamned manual, get the right tools, and dedicate ourselves to building instead of forcing a 4.0 L V8 into a Honda Accord. That, then, is where the Europa League feels like both a distraction and a part of the rejuvenation process: the money pushes us towards the stated goal of buying multiple superstars a summer again, but it also allows Xavi to tinker with the side, get them game time, and fully immerse everyone in his methods.
The poison is not the Europa League, it is what we do with it. Like Chelsea with Abramovich, like Manchester City with the Emirates, like, well, like us with Qatar, we have a choice. We can make the right choice, we just have to want it enough to forgo the riches dangled in front of us for long enough to understand that they're a mirage. The piper always gets paid.
Instead, let the wall of noise be our guide: this isn't about prize money, but instead about loving the game we share and being better today than we were yesterday. It is about growing, it is about working toward a goal as a team and a community. It is about mes and it is equally about accepting less.
And it is about getting ready for Sunday, when all the romance is shelved and I'm that screaming maniac, braying for blood. Because we all have our weaknesses and mine is the horror and wonder that is a Clásico.
Prediction: 2-1, Galatasaray get the better of us. It's okay. I'm thinking about other things.
Alternate Prediction: Kansas tops 90 points against Texas Southern and we're all quite happy, all things considered.