Long before I moved there, all I knew about Frankfurt was that it was the home of the European Central Bank. It was Germany, so of course it was efficient and cutting edge, which obviously meant that I envisioned a sparkling, futuristic world of marble and glass, sprawling plazas, and people in business suits wearing IDs on lanyards that specified what country they represented. I thought of the ECB as some sort of galactic mega city where tens of thousands of intelligent worker bees created monetary policy and took long lunch breaks at outdoor cafes under slate gray skies. Maybe they had horizontal escalators that zipped people from place to place. It was Asimov meets BMW.
I was wrong.
Okay, well, the ECB has a glitzy new headquarters (above) that sits apart from rest of the city, much like a galactic mega city would and its elevators don't have buttons on the inside because it's all futuristic like that, but it's kind of a labyrinth to move through. Also, yes, the downtown is nicknamed Mainhattan (pronounced like mine-hattan after the Main River that runs through the city) and can look shockingly modern in pictures, but at street level it's not so much a sleek city of possibility as the home to an inevitably enormous number of luxury high rises that compete with the global headquarters of various commercial banks for space.
But I was wrong in that despite its enormous financial muscle and flashy downtown skyscrapers, Frankfurt is not steeped in speedy transactions or anything remotely resembling efficiency. My street, nestled comfortably in what I learned was an upscale part of town, was architecturally uninteresting, the walls of the buildings painted an almost identical shade of tan. One was some horrible olive green that was peeling to reveal its prior color of — and please, do guess while you wait to get to the end of this sentence — tan. In the fall, leaves pile up around the tires of cars parked on the street and it felt like some color had actually been splashed across the view. There were more Skodas than Mercedes, no visible lanyards, definitely no people movers, although one of the local malls, MyZeil, boasted a 3 story "express" escalator that moved at what felt like a hundredth of a mile an hour. So there was a way to spend an afternoon.
Here's the thing: I eventually grew to like it, although when we left after 2 years I knew it was time to go home. I moved there from a job in lower Manhattan, where I was a stone's throw from Wall Street and every day was the helter-skelter commute of packing onto a subway car at rush hour, uncomfortably close to someone else. Frankfurt wasn't pushy like that except at odd moments when there was a transit strike and everyone was just trying to get on the only train for the next [here, you glance up at the electronic display board] 2 minutes? Oh. I'll wait for that one.
I got comfortable with the pace of life, going from crossing against red lights because there was no one coming to adopting the German attitude of waiting because, well, where was I going in such a damned hurry? When I was with my daughter, I pointed out the nice little signs saying "we wait for green" that dotted the landscape.
I had my issues with German bureaucracy (from the customs office forms to the immigration paperwork to trying to cancel a cell phone plan when it was time to leave) and I spent enough time ferrying myself and a kid from one office to another for this or that reason that after a couple of years, I was ready for the United State's version inefficiency. At least it wouldn't be in German.
But the football. My god, the football.
I had a cable package that came with the apartment that gave me every single 1.Bundesliga and 2.Bundesliga match every weekend. A dedicated channel for each match! And then the Champions League would roll around and there was a dedicated channel for each of those matches too! And at a civilized time, after my kids were in bed and I could focus on the games instead of watching while keeping an eye out for my boss.
I went to the Waldstadion for a match, of course. My first was a Bundesliga match, up at the top of the upper deck, soaking in the atmosphere and the beer and the persistent cold of that particular night. The ultras were in fine voice, the game was dour, although a goal to draw level took the noise level to an adequately ear-pounding level that I felt quite at home for a bit.
My second match was a preseason friendly against Celta Vigo. Branimir Hrgota, I believe wearing Frankfurt's colors for the first time after a move from Gladbach, got a double against Celta and he was going to fly that year, finally live up to the potential people had seen in him. Pione Sisto pulled one back and then Hugo Mallo scored an own goal in the 80th that sealed it. I got sunburned.
I bought a jersey before we left, a beautiful, red, sponsor-less masterpiece of a jersey. I love it. I also have an FSV Frankfurt jersey, although I was never able to attend a match. They were relegated from the 2.Bundesliga in my 2nd year there and have dropped down to the relegation zone of the 4th tier now, 2 points from safety.
And now Barça shows up to take on Eintracht Frankfurt in the first leg of the Europa League quarterfinals. Frankfurt just bested Real Betis 3-2 on aggregate, the 2nd leg going to extra time. That match ended 1-1 and Frankfurt has managed 3 draws, including 2 goalless ones since. They're not an attacking dynamo, with just 39 goals for (and 38 against) in 28 matches. Barça has 57 in 29 matches, while allowing just 29.
That said, Frankfurt doesn't miss Hrgota, who scored just 6 times in 39 total matches for the club; he didn't take off, unfortunately. Instead, they had Fußballgott Alex Meier still banging in goals, then they had Luka Jovic before his ill-fated move to that one team, then it was André Silva, and now, after Silva's move to Leipzig, they have…not really anyone.
Barça, on the other hand, has a lot going on right now. The aberration was the 1-0 win against Sevilla where instead of winning running away, the team blasted some chances over the bar and settled in for a rock fight instead of a massacre. xG from that match was heavily weighted towards Barça, but it was a low percentage, 0.10xG–yet absolutely fantastic and scream-worthy–shot from Pedri that separated the two teams at the final whistle.
It feels like this is a foregone conclusion, but it's a European away match and you never know what will happen. Not really. Not in Frankfurt, where looks can be deceiving.
Very near the water in downtown Frankfurt sits its historically important cathedral. From the 16th century until its dissolution in 1806, Frankfurt's cathedral was home to the college of electors who elected and crowned the Holy Roman Emperor. Surely, I thought, the gothic exterior would give way to an ornate and interesting interior.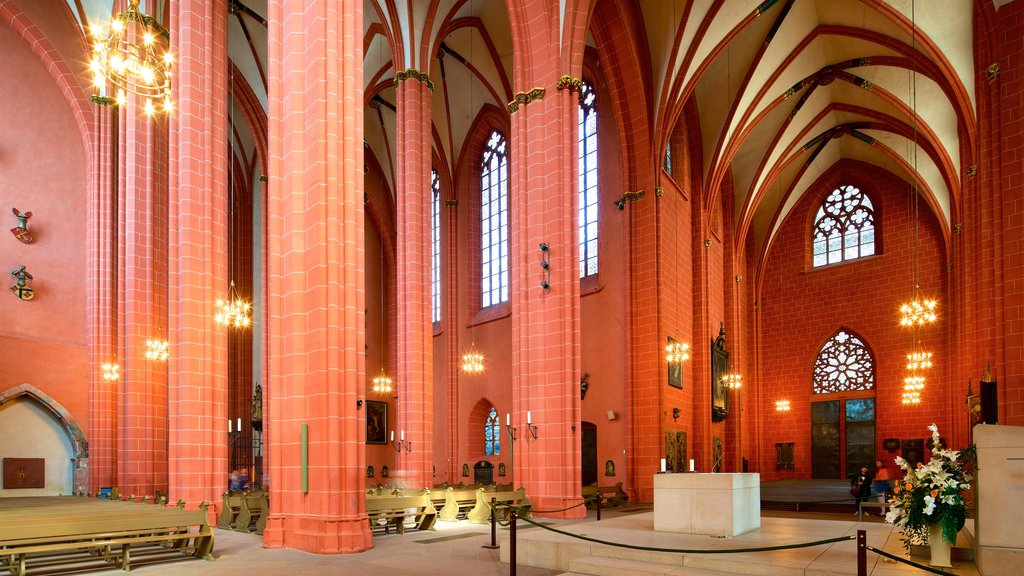 Who designed this, someone with only red Lego bricks to work with?
Prediction: Frankfurt 0 – 1 Barça. Beautiful build-up, but ugly inside.