I won't lie to you: watching Getafe is not high on my priority list. It's not high on anyone's list: their Estadio Coliseum Alfonso Pérez holds 17,000 people and they average right around 8,500 fans per match. I know it's somewhat rich for a Barça fan to laugh at attendance numbers given all the empty seats regularly on display at the Camp Nou, but at least that stadium is the largest in Europe and the home crowd is usually around 55,000.
The thing is, you get what you'd expect from a team creating that kind of excitement in their home city. And that thing is very little. A relegation scrape, sitting in 15th with 38 points; probably safe, but not technically. It would take quite the run of results to put them down, but it's not entirely implausible.
The relegation fight looks like this, in descending order:
38pts Getafe: Barcelona, @Elche
37pts Granada: @Real Betis, Espanyol
35pts Cadiz: Real Madrid, @Alaves
33pts Mallorca: Rayo, @Osasuna
31pts Alaves: @Levante, Cadiz
Getafe can only be overtaken and relegated in 18th if they lose both remaining matches, while Mallorca and Cadiz must win both of their matches, and Granada must get at least 2 points. A single point in either of their matches keeps Getafe up because they have the superior head-to-head record against Mallorca and Mallorca's maximum points are 39. Cadiz will likely lose to Real Madrid and render all of this moot, but Alavez visiting relegated Levante and then relegation opponent Cadiz is spicy stuff.
If you're Barcelona, you're fighting for the money that comes with 2nd place and that's really it. The lowest the blaugrana can finish is 3rd and that would require losses against both at Getafe and in the season final against Villarreal while Atleti must win against Sevilla and at Real Sociedad. If Barça gets a point in either match, they get 2nd because they hold the tiebreaker with Atleti of having fewer yellow cards. And, I hope, because watching Atleti is like rubbing sandpaper on your crotch for 90 minutes. I'm on record about this.
As a fan, though, what do you root for when there really isn't anything to play for? A good showing? Youth players? Couple that with the myriad injuries that Barça have suffered recently, including the scary collapse of Ronald Araujo last week against Celta, and you have a recipe for a mediocre performance and even lower expectations.
I can't name any current Getafe players.
I don't mean that as a joke–I honestly don't know who plays for them. I think of Getafe as some decade-old joke about zombie porn and Javi Casquero getting run over and mauled by Pepe. They really did make a porn called Zombies Calientes de Getafe in a weird effort to drum up interest in the club. I don't think it worked, but it did showcase, among a few other things possibly of greater note, a shirt referencing "Peña Getafe Casquero". I have no idea if it's alluding to Javi Casquero or not, but that's a fun tie-in.
I've now looked it up and I had completely forgotten that Carles Aleñá went to Getafe–and apparently stayed. Sandro Ramirez is there, another thing I also forgot. Getafe has a third former Barça player, Jorge Cuenca, if you remember him. I do from my FIFA18 days when I would guide him to being one of the best CBs in the world. They also have a player named Okay Yokuşlu, which is a great name. I'm sure he's…very good.
This is precisely where a manager like Xavi has to earn his salary: it's not about getting the team to play well, it's about getting the team to finish the job. Get that point under a little bit of (injury-related) duress, and secure 2nd place. That may sound like nothing — what's the difference between CL in 2nd or 3rd — but the money is something to next season's plans.
The other option is to treat this like a training match and try out all sorts of funky formations and lineups. You have 5 subs, after all. Start a few B team players, given them their first team debuts, run around a little, don't worry about the score. It's not necessarily an advisable option, but why not start Luuk de Jong and make Getafe defend against looped crosses from Dembele, Jordi, and whoever else is on the left wing (probably Ferran?).
Whatever Xavi does, I suppose it won't matter. Getafe once had a Burger King sponsorship that included a picture of the Burger King on the underside of the shirt: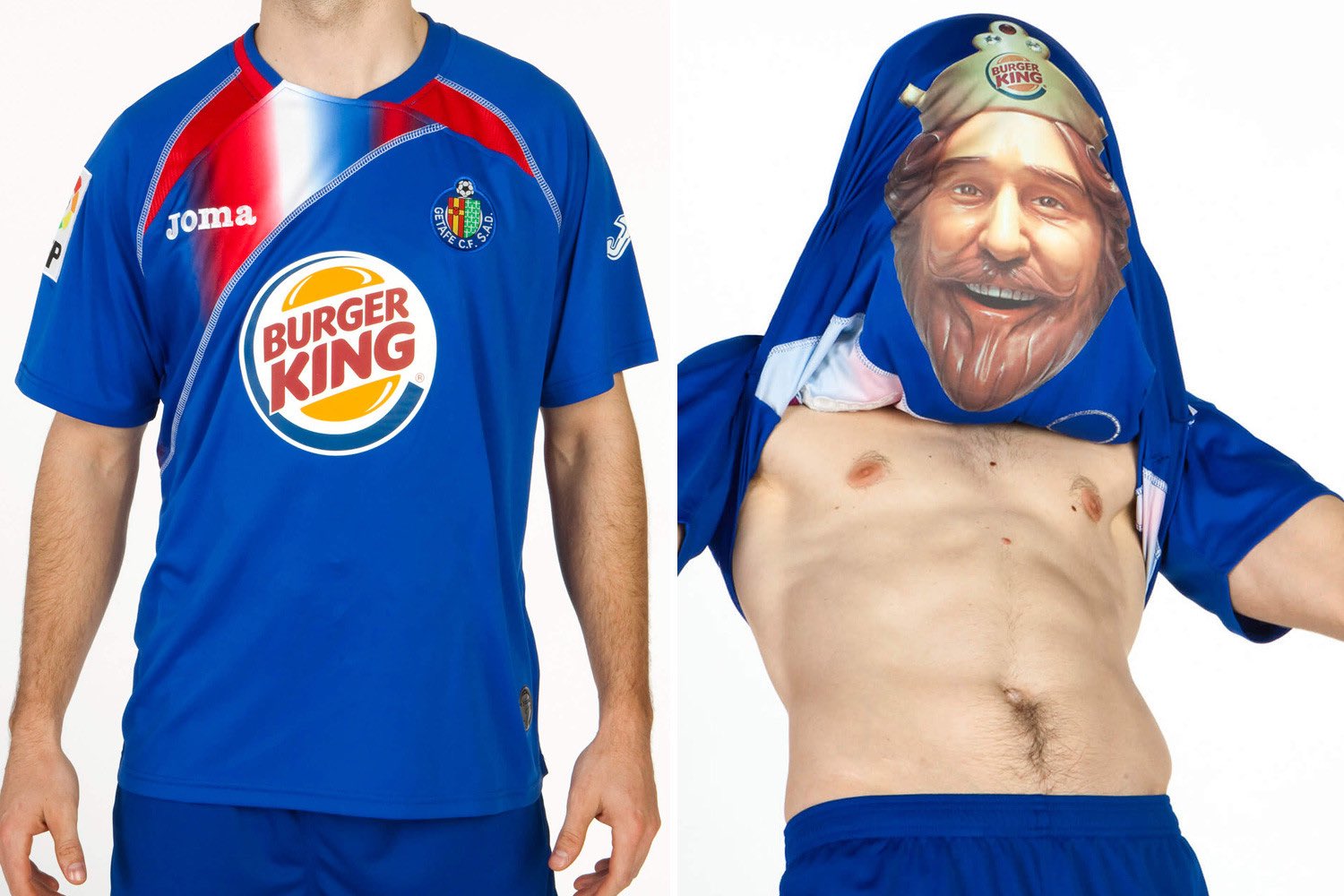 This is not a serious club, as the kids might say.
Bold, official prediction: 3-1 Barça. Sandro scores for them. Luuk hat trick.