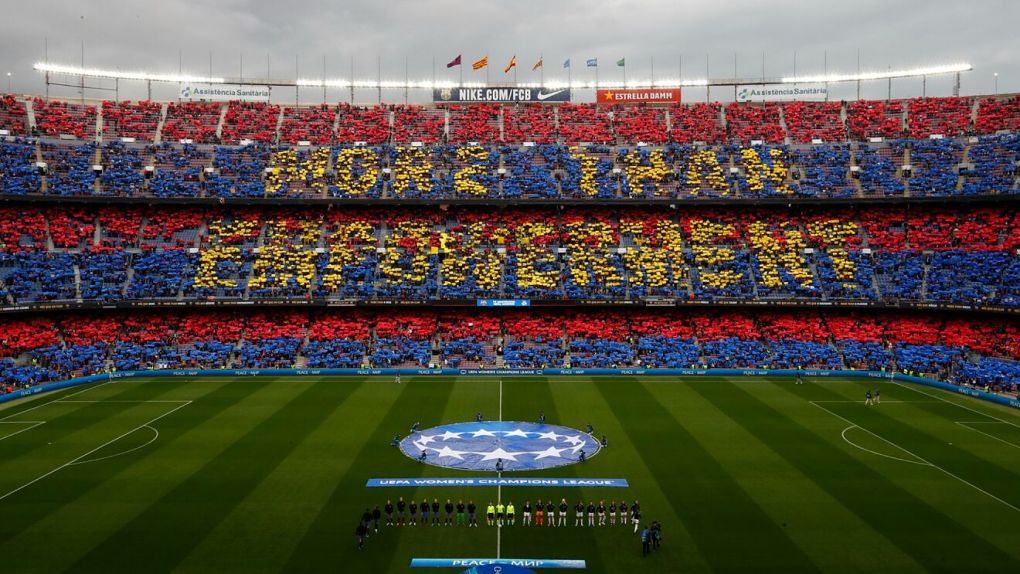 It is rare that we get 2 legendary teams playing against each other in a one-off tournament match. We, as fans, are often denied these monumental matchups by the stresses and pressures of season-long campaigns. And yet, here we are: 2 dynasties, one an established global force and the other an up-and-coming superpower whose expanding empire has become too large to ignore. Carthage verus Rome, in some manner of speaking: regional dominance hangs in the balance.
This is a "proper" Champions League final. The competition's all-time leading scorer (59) and inaugural Ballon d'Or Féminin winner versus the current season's leading scorer (10) and reigning Ballon d'Or Féminin winner. Last year's champion versus the champion from 2 years ago. A team on the verge of an undefeated league season (if they can get through 2 more matches) versus a team that has already won all 30 of their league matches in blistering fashion. The current defending champions against the winner of the previous five titles. Rising stars versus rising stars.
You do not get bigger than this.
For both teams, the season began way back in August, with a trip to the United States for a pre-season friendly called the International Women's Challenge Cup. A 4-team, single-elimination tournament that pitted 2 European clubs against each other on one half of the bracket and 2 American clubs against each in the other half, the International Women's Challenge Cup organizers thought it best to put Barcelona and Lyon against each other to start the year off.
The final score was 2-3, Lyon running out winners thanks to an 85th minute Melvine Malard goal, with Mariona Caldentey scoring both for Barça. While I admit that I missed that match (or at least have no memory of it), I did tune in for the last minutes of the final between the Portland Thorns and Lyon, which the American team won thanks to Morgan Weaver's 87th minute winner (which I saw pretty much as I turned it on).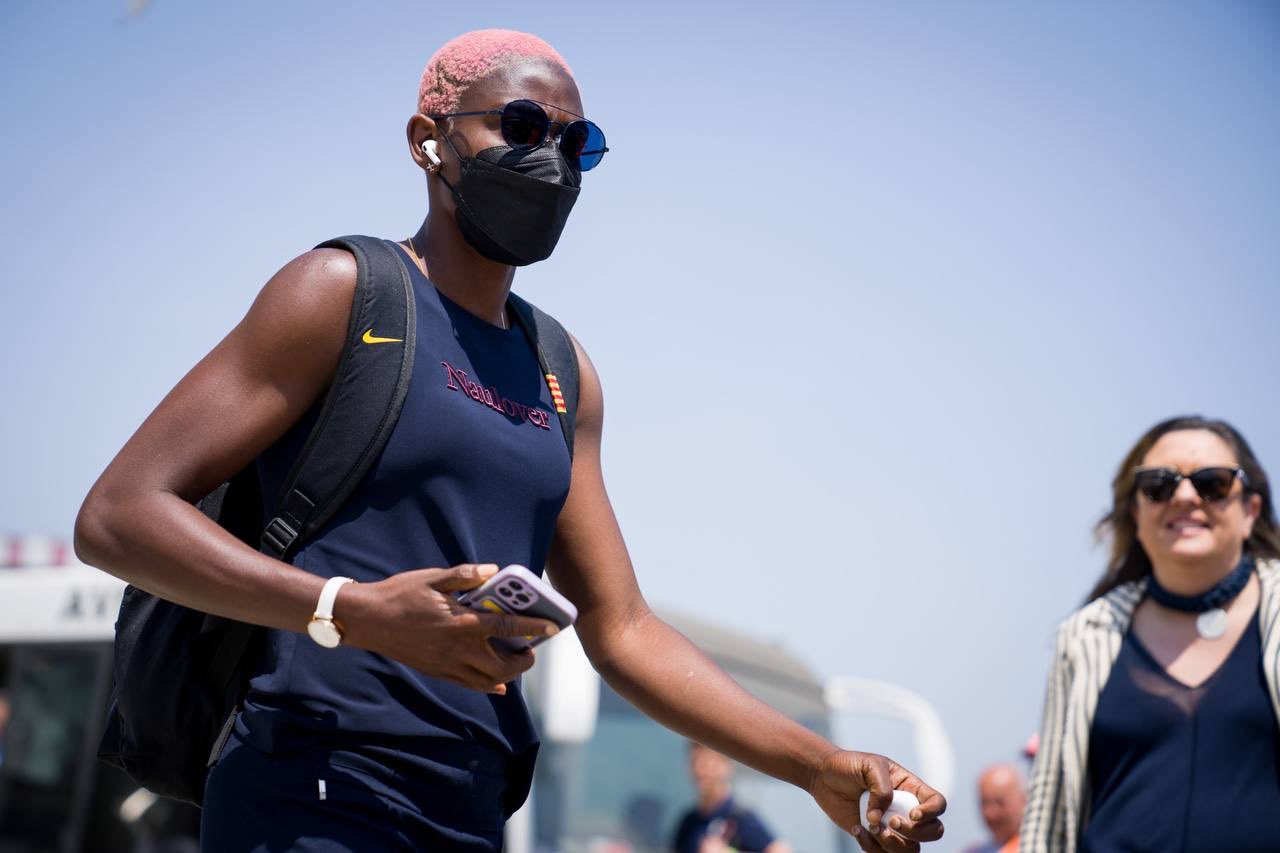 It feels odd, now, to look back at that match and think: the best teams in the world finished behind the Thorns (a good team who won the NWSL regular season title, but lost in the playoff semifinals) before going on to dominate basically every match they played. Although last season seemed like peak possible performance from Barcelona, they've actually improved, which is terrifying. Even in their one loss, to Wolfsburg in the CL semifinal second leg, where they didn't score for the first time all season, they dominated long stretches and should have racked up at least 3 goals in the first half (Ana-Maria Crnogorčević, for one, had a gilt-edged chance in the 43rd minute with only the keeper to beat and time, but panicked and fired over from just left of the penalty spot).
No one is perfect, they say, but that Wolfsburg loss is the only slight blemish on an otherwise winning season: 30 wins in 30 in the league, 2 wins in 2 from the Copa de la Reina (the semifinals are on May 25), 2 wins in 2 in the Supercopa, and 9 wins in 10 in the Champions League. That's 43 wins in 44 matches. The league stats are astounding: 159 goals scored, 11 allowed. The Champions League stats are only slightly different: 37 goals scored, 7 allowed.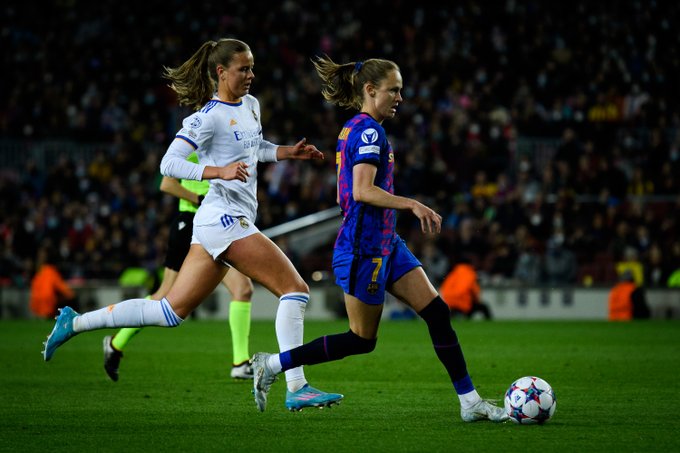 Injuries piled up, with basically everyone taking a seat for some amount of time during the year, but the machine rolled on. These women are badass. They hunt in packs, trust each other in one-on-ones, and spread the wealth, with 8 players having scored 10 or more goals in all competitions and 6 players with 10 or more assists. Mariona Caldentey, who has appeared sparingly due to injuries since that appearance in the US in August, still grabbed 7 goals in 21 appearances and probably would have reached double digits had she been healthy, which she now is.
Defensively, the team allowed just 0.367 goals in the league, although that number rose significantly to 0.7 goals per game allowed in the Champions League. It is, however, very important to point out that of the 7 goals they allowed, 4 of them came in their 2nd leg knockout matches and at no point were Barcelona behind on aggregate (they were up 4-3 when Real Madrid took a 1-2 lead in the 48th minute before they poured it on and won the match 5-2).
Barça won everything last year, including drubbing Chelsea 4-0 in the CL final, a result that warmed my heart not just because I was cheering my fool head off, but also because of how little credit the team was given by the English studio crew before kickoff. If it wasn't clear before, which it should have been, it is now: Barça are both a world-leading attacking force and an incredible defensive team. This is the best team in the world.
The question is whether they can deal with Lyon in transition, given what the French club bring to the table, which is no joke.
Lyon, then. A juggernaut in their own right, Lyon have won seven CL titles since 2011 and have appeared in 2 other finals. They're historically the team to beat in Europe and this year is only slightly different because domestically they've been challenged by PSG's rise. Ada Hegerberg has made the case that they're a consistent force, stating "I swear that it's maybe the hardest thing in football: staying on top year in, year out. When you look back on it, it's like, 'It shouldn't happen, being able to win five years in a row.' So I wouldn't [dismiss] the fact that we did that." And we shouldn't dismiss that.
With 2 matches remaining, Lyon are the league leaders, up on PSG by 5 points, but they play away to their Parisian rivals on May 29 and then have a final match at home against Issy. 2 losses would probably put PSG top, although that is very unlikely. With a record of 19-1-0, 74GF 8GA, they're very nearly in line defensively with Barça (0.4 goals allowed per match compared to 0.367) and their 3.7 goals per match is fabulous (although far, far behind the 5.3 goals per match that Barça has bludgeoned everyone with).
The Champions League has been a weirdly mixed bag for Lyon, who lost away to Bayern Munich (1-0) in the group stage and lost the first leg of the quarterfinals away to Juventus (2-1). Overall, they scored 28 goals and allowed 8 in their 10 CL matches. They were also beaten 3-0 by PSG in the French Cup in January, although they've now beaten PSG 6-1, 3-2, and 2-1 in their 3 other meetings this year.
Despite maybe not being quite as good as Barça in terms of goals scored and allowed, their roster is, well, listen:
Wendie Renard
Amandine Henry
Lindsey Horan
Catarina Macario

Oh, right and someone named Ada Hegerberg.
There's obviously a bunch of other tremendous players (bonjour Melvine Malard, hello Kadeisha Buchanan), but that core of players: phew. I would include Daniëlle van de Donk in this list were she not just coming back from injury, as communicated today by Lyon (this post was written May 19), but she hasn't played in a long time, so she'll just get an honorable mention. Lindsey Horan is a recent addition, but what an addition! Renard is 31, but 6'2″ of capability and control. Amandine Henry is the link between defense and forwards that can score, tackle, and generate movement. Catarina Macario is The Truth. And Ada Hegerberg is what The Truth asks for verification of its correctness.
Hegerberg is the all-time leading scorer in European competition with 58 goals to her name in 59 matches. She's added 5 in this year's edition, which is far below her usual tally. She has scored 298 goals in 300 matches in her career. She is 26. Let that sink in.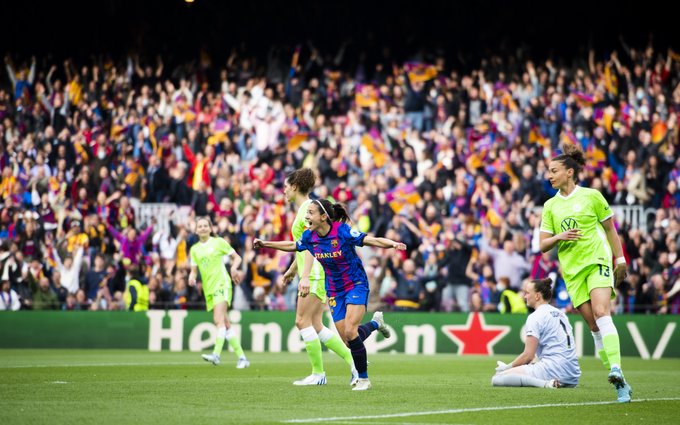 Barça doesn't have someone quite as prolific as Ada, but the squad is no slouch. Asisat Oshoala got 20 goals in the league and 20 different players scored overall, but that just means they shared a lot. Alexia notched 18, Jenni Hermoso and Lieke Martens got 16 apiece, Claudia Pina got 15, and Aitana Bonmati got 13. And that's just in the league. Alexia scored 32 overall in 39 appearances., which is a fantastic return. She'll at least be considered for a 2nd consecutive Ballon d'Or. (As a quick aside, PSG's super striker Marie-Antoinette Katoto is out of contract this summer and if Barça can convince her…).
Given the note about van de Donk above, it should be noted that Barça have their own Dutch star returning from injury who may or may not be fully able to participate: Lieke is back! And a good time too for the squad to be effectively injury-free after a year of incredible misfortune: the team suffered from 31 injuries this year. 31! And still found a way to crush basically everyone.
This is a match pitting 2 incredible teams against each other in absolutely the game we all want to watch. This is the reason we play. Women's football and Barça in particular, is coming off incredible attendance records from the CL quarterfinals and semifinals, both at the Camp Nou against Real Madrid and Wolfsburg, respectively. The atmosphere at those two matches, with 91,648 attending against Wolfsburg, shows you all you need to know about whether or not women's football is marketable. Getafe couldn't fill their stadium for a relegation decider against the Barça men's team, so that's says something else.
Watching this team has been a genuine joy. Obviously it helps that they win, since that's incredibly fun, but it has simply been worthwhile to watch athletes at the top of their sport doing incredible things week-in, week-out. Their passion is infectious. I mean, just watch Mapi Leon and Alexia lead chants after the quarterfinal clasico win and tell me you aren't drawn to their love of the club and the fans' love of them.
This squad is to die for and its future looks bright, no matter what happens on Saturday. They'll want to ease the pain of the 2019 drubbing at the hands of Lyon in the final in Budapest, but this is not at all the same squad that lost that final 3 years ago. Then, they were overawed and worried, but now they're comfortable with themselves, with their manager, and with their aims. They are not happy to be here, they are here to win.
Vamos equipazo! Let's do this.
Prediction: 3-2, Barça. Alexia with a double, Claudia Pina with the winner; 1 each for Macario and Hegerberg. A wild ride that we'll look back on and call a classic.